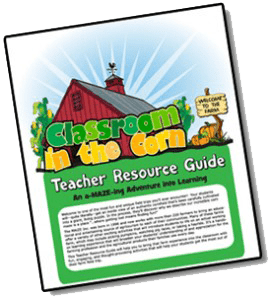 Teacher Resource Guide
Hands-on learning experiences are always best when students have been prepared for what they are about to encounter and are able to then discuss what they learned afterward.
We are pleased to offer our Classroom in the Corn learning series to make your field trip more exciting and memorable … as well as a better learning experience.
These Teacher Resource Guides are broken into separate grade ranges and each include: activity goals, National Curriculum Standards, preparation required, materials needed, worksheets, and step-by-step instructions. View a sample of that curriculum.